In case you missed it, this year's color of the year is Marsala. And I, for one, am completely thrilled about it. Good job Pantone, you finally got one right.
This color is way under utilized. It usually pops up around the holidays, especially Christmas and New Year's. But I'm happy to see this color make an appearance all year round not just during the fall/winter season. It's a deep red/brownish color.
Marsala is one of those colors that just looks good on everyone. Whether you have pink or olive undertones, whether you're dark or light. It highlights all the right things. It falls perfectly on the color spectrum for this job.
There is no wrong way to wear this color. But may I suggest using it for pops of color. It's such a bold color it will stand out wherever you put it. Use that to your advantage. You can highlight your best assets with it.
Here's my affordable picks for adding the color to your current wardrobe without breaking the bank. But feel free to substitute an item if you find one you love in another store. These are merely ideas to get you excited about adding this color. 🙂
READY? 😉
Love your smile? Surround those pearly whites with a new lipgloss in the color of the year. I pick Ulta's brilliant color lip gloss in Berry 05 for this. It's long-lasting, has a pleasant taste and the colors look great. I've tried some fancy brands, but some of them tasted like band-aids, no joke. Ulta's own brand is my fail-safe. You can't go wrong with them. And at $8, it's not that bad….and the tube lasts forever.
Want an update for your home decor? I love these pillows from Kohl's. You can find the lattice pillow here and the poppies here. I love poppies.
And both of these are on sale for under $24 each. Bam, instant update for your couch! Or pick up a blanket or vase.
Ready to surround yourself in Marsala? These tops from Old Navy are perfect for this season. The patterned chiffon has a fun bohemian vibe going on, but for heaven's sake put a layer on underneath …chiffon is see-through, despite what you might think. And no one is an exception to that rule. Hah.
And the linen-blend boyfriend tee is super casual. And in case anyone is wondering, yes, the "just-rolled-out-of-bed" look is big this year. So grab the biggest over-sized shirt you can and you'll be on point this year. Both are under $25.
I personally love adding the color of the year as shoes. It always gives a pop to any outfit. Here's some Unlisted high heel boots from Famous Footwear. That happen to be $25 right now. Be still my heart. I love that color. Mmm. I'm confined to flats for now since this baby bump is throwing off my groove…but those boots would totally be in my closet.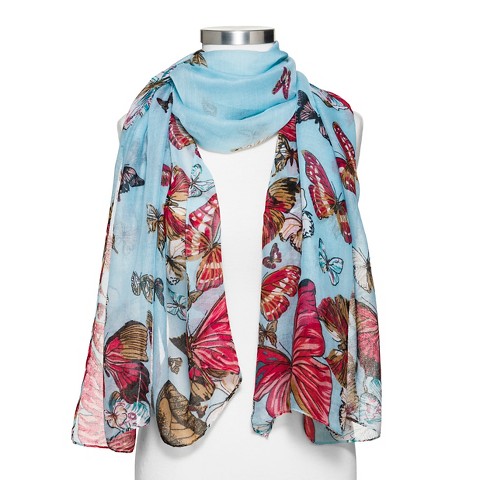 And if you just want a new accessory for when the weather takes a dip, pick this butterfly scarf from Target. It's pretty, soft and everyone needs a good scarf. And it's paired with my favorite color of spring, aquamarine.
"But Rachel, I like to sew. Why are you showing me things that I can buy when I rather make something?"
Fine, if you're ready to sew yourself something pretty, here's some knit from Girl Charlee that would work awesome as sleeves on a color blocked shirt or as a new frilly skirt like the Calrose. The burgundy stripe or Navajo Ethnic Emblems. Both are awesome.
And yes, the Navajo happens to be pink…but from 10 feet away no one is going to know that, so don't fret.
Now go forth and add that color to your existing wardrobe! Start little if you're scared of change, but I promise this is a color you will quickly learn to love. Go be bold
Happy Color of the Year!